Being a maker can be tricky
Especially when juggling tasks, to-do lists, and growth.
That's why I've decided to outline this little informational post to try and facilitate the process of ordering custom and wholesale pieces for anyone who may be interested. 

Starting January 2018 
Custom order spots will be limited each month
I will be openly taking only six custom requests per month. 
Why with the limits? I'll be happy to explain.
Celestial Surf Studio is ran by one person- little ole me. I do all the dirty work of making, fine tuning, glazing, packaging, shipping, and all the behind the scenes stuff too. Working as a one-woman-workshop can be really hard and draining sometimes, especially when you're delegating your time to things you might not even be into. 
Also, I've got to limit the amount of custom requests per month in order to work on new things, stock for the online shop, and upcoming sales and shows. 
Now to get down to brass tacks as far as the technicalities behind this statement of  only six per month deal. 
Q. I really want to get a set of dinnerware custom made. Does that mean I can only get six pieces at a time?
A. No. Your orders count as ONE custom request, no matter what's going on as far as quantity in said order. 
Q. Sweet, now what If I decide to order my whole family dinner sets too?
A. Now, that's where it gets tricky. Depending on the quantity of items you'd like to order and all the other events and tasks I'm juggling at the moment- I might decide to take on your request and close out the rest of the months opportunities for customs so that I may have time to focus on what needs to be made without becoming overwhelmed. 
All right, kids. Think we've got it understood? Great. Now lets move on to some rules.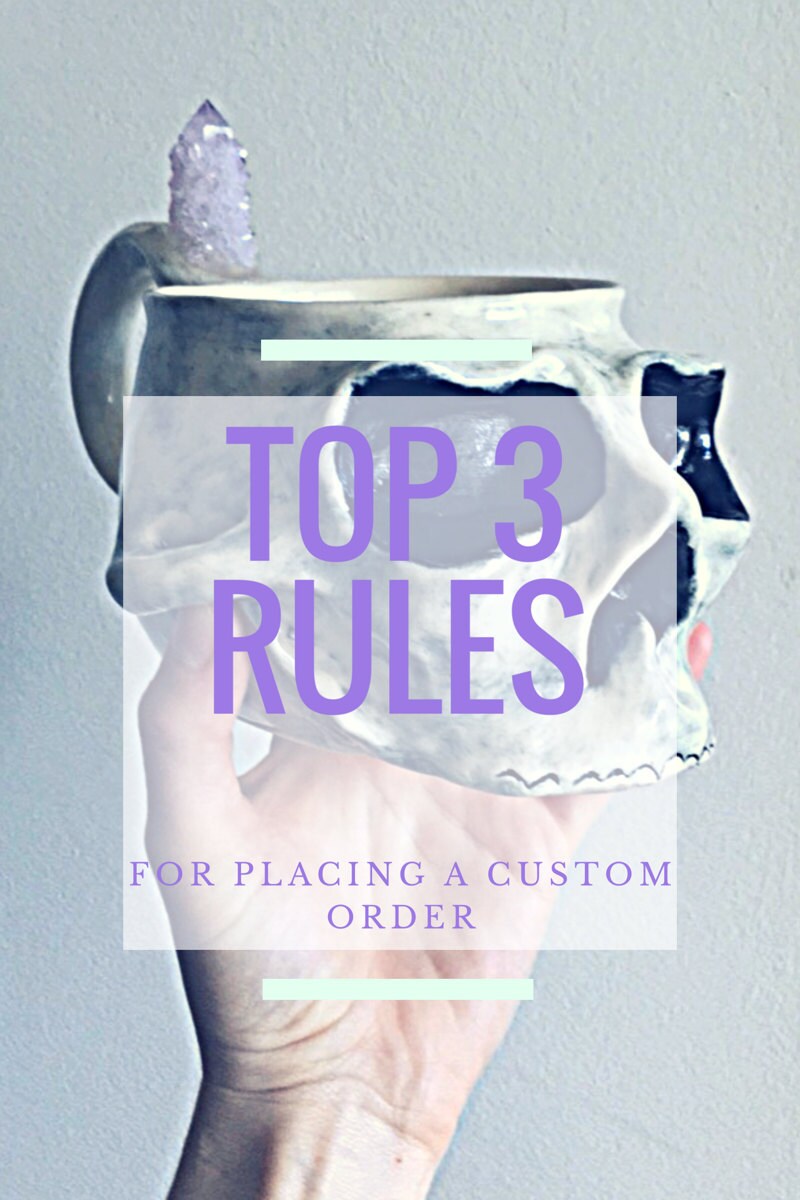 Rule number one. 
Mind your P's and Q's. Just like your mama taught ya. Use your manners and be respectful. Like I said earlier- this gig is a one-woman show, and it ain't easy. If you want to be rude and give me a hard time, I will abandon your project and move on. 
This includes trying to haggle with pricing. If I want to leave room for negotiation, I'll bring it up and offer options to you. Working with your hands is a time consuming process and I price my work pretty competitively compared to other potters who take custom orders. I want you guys to be able to afford cool art, but I also need to be fairly paid for my time, materials, and costs to operate as a small business. 
Rule number two.
Plan ahead- timing is everything in the world of pottery and this stuff can't just be thrown together overnight. Please allow up to two months from your request for your order to be made and completely shipped to you. 
Why two months? Well, usually it takes about three weeks to a month for some pieces to be fully finished. Then you've got to build in cushion time for the "uh oh's" that can and will happen. Sometimes pieces break or crack during the fabrication process, sometimes our studio equipment needs maintenance, and sometimes that glaze color I need to complete your order just hasn't been delivered yet. 
So, that mug set you'd like to get custom made for your friends wedding present? Order it as soon as you get the save the date invite, not two weeks before you hit the road to watch them get hitched. 
What about that Christmas present for your weird aunt that loves collecting vases a little more than she should? Place the order for her dream vase in October, not the last week of November to get it in time for the holidays. 
Don't care when it's done or when it arrives? Cool, just let me know. 
Rule number three.
Starting January 2018, I will be requesting payment for your piece pre-shipping costs before I start on it. After it is complete, a second invoice will be sent to cover costs for shipping. 
Why? Well, it helps to filter out people who aren't serious about their inquiries and it also provides me with funds for buying specialty items I might need to complete your request (glaze, tools, crystals, etc.) 
Q. How will I be billed for my order?
A. I'll be sending you a custom invoice that is powered by Square for what you've requested, listing the quantity and price per item. You'll have a deadline to pay, and if your invoice doesn't get paid by its due date, then your order will not be made. 
Q. Why is shipping billed separately?
A. Shipping costs vary. Mugs can ship solo for about $7-$10 depending on where you live. However, a bigger order of 8-20 mugs will need special packaging and can cost upwards of $65-$100 depending on the materials used and distance being shipped. Sometimes I really have no clue what shipping is going to cost until after its all packed, the numbers are punched in, and I'm swiping my credit card at the UPS counter to cover it before sending you the invoice. 
Final thoughts and statements on custom orders
If you've made it this far, congrats! You're awesome and must really be interested in getting something custom made. 
Just keep in mind I can always refuse an order due to subject matter and level of skill. depending on the level of intricacy and quantity of an order the two month rule might be waived and take longer if I feel its necessary to complete the request. 
Own a business? Wanting some jazzy logo mugs? Looking to order wholesale? 

Don't worry I've got you covered.
I love doing wholesale and consignment work for businesses. I can work with adding your logo to mugs, whipping up special products just for your shop, or provide multiples of items I already make. Just let me know what you're thinking and we can hash out the details. 
As far as pricing goes, I typically charge half of what the retail price for my items would be if you are ordering wholesale. However, you must get at least eight items in your order to qualify for wholesale pricing. 
Not sure if you want to commit to that many pieces at once? Want to order two or three to see how they sell at first before getting more?
That's fine, they'll just be priced in full. 
What's the best way to order custom pieces or wholesale?
Visit the contact section of my website here. 
Include "custom request" or "wholesale request" after your name. 
Be specific as possible about what you want in your message. I'll get back to you and be in correspondance until we work out the details of your order.