If you've indulged yourself in reading my first blog post, you're probably well acquainted with the story of how Celestial Surf Studio came to be.
 Well, we've come a long way in the past year, accomplishing some cool stuff along the way. Be warned, this post may seem like a shameless brag... that's because it is.
 I think it's important to remind yourself of the magic you're capable of making and airing your accomplishments in order to inspire others to reach for their own goals as well. A wise dude I know always speaks the same mantra "go chase..." and leaves the end open and malleable for those listening to fill their own void. Go chase your ideas, your ambitions, your desires, your goals, your dreams. 
Chase them, I have. 
And I will continue to do so, until I physically can't anymore. 
It's a long way to go until my hands will ache and warp, till my back is permanentely hunched from bowing over a potters wheel, and my face lined with traces of all the grins I've worn. Hopefully I'll have a whole novels worth of accomplishments and stories to tell by that point, but we're here to talk about what has actually happened over the past year. 
Mugs, Mugs, Mugs. 
The world can never have enough mugs. As I sit here writing this, I only wish I had kept track of how many I've made in the past year alone. Many of them make it, coming out of the kiln all shiny and ready to find new homes, but some crumble and fall behind in the earlier stages of production. I like to consider those  'sacrifices' to the clay gods. 
At this point last year, only three mug designs surfaced and hung around for a few months. My little brain was still warming up and shaking the dust off from being in rest mode. At this point, everything was still a trial run. So I took my little plain mugs, mountain mugs, and octopus mugs and all the tiny trial pieces I had made and ran with them. 
As soon as I put them on etsy, they flew off the shelf, mainly to friends and family, but still! I couldn't believe how fast they went. So I kept working. Soon enough I was signed up for a cool craft festival back in my old college town. I figured it would be a good place to stretch my wings and see how things would go. 
I couldn't ask for a better turn out- I practically sold out! There was only a handful of items I returned home with. This small success only fueled the fire inside of me, inspiring me to make more, do better, go chase. 
The holiday season pretty much wiped me out, forcing me to scrape together new ideas, start fresh, and invent new products. 
With the beginning of the new year, two or three new product designs emerged, with a few more following in the spring.  Now there's a few signature designs that will stick around as staple pieces in the Reef Collection.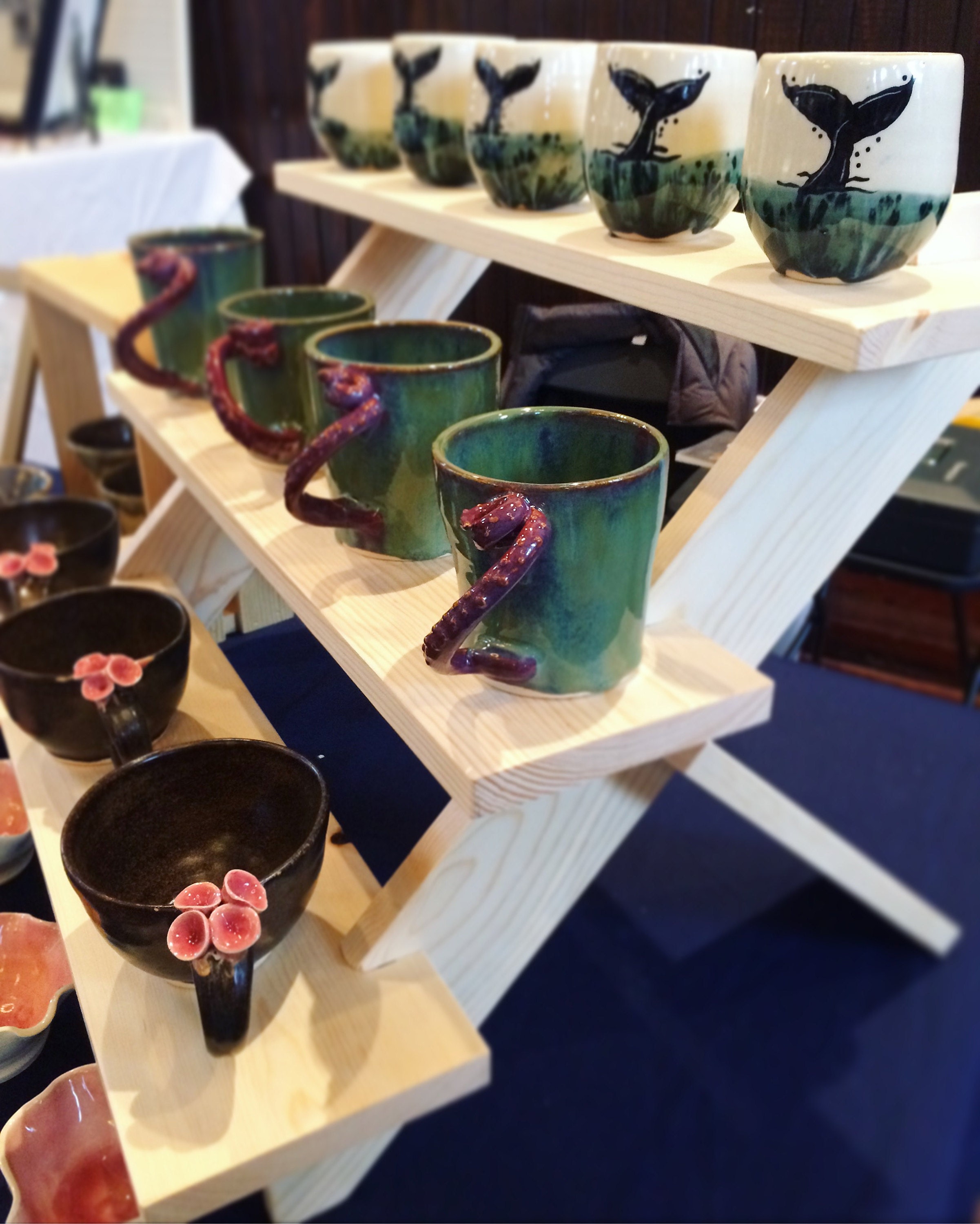 Then, things got real. 
I whipped up a big batch of goods, entered in a local craft show, handed out a chunk of business cards, and sold a ton of mugs. 
Things were going well, but what I didn't know was that things were about to explode...in the best way that explosions can happen. 
Inquiries started pouring in to my instagram. People wondering when products would be available online again, where would my next sale be, etc. 
And then I got the coolest message yet. 
One of the guys from Annex Surf Supply happened upon my booth at the craft show and reached out to me to see if I wanted to do a solo show out at the surf shop. I was floored. What a cool opportunity, especially for all of my beachy wares. 
So I got to work on whipping up some stock for the show. The sale went so well! It was like a breath of fresh air, a warm fuzzy feeling of accomplishment, and to make things even better, I landed a full time gig making the mugs for Annex. I couldn't be more grateful. 
So I left a few of my signature pieces to sell at the shop, set to work on the logo mugs, and looked forward to the next adventure.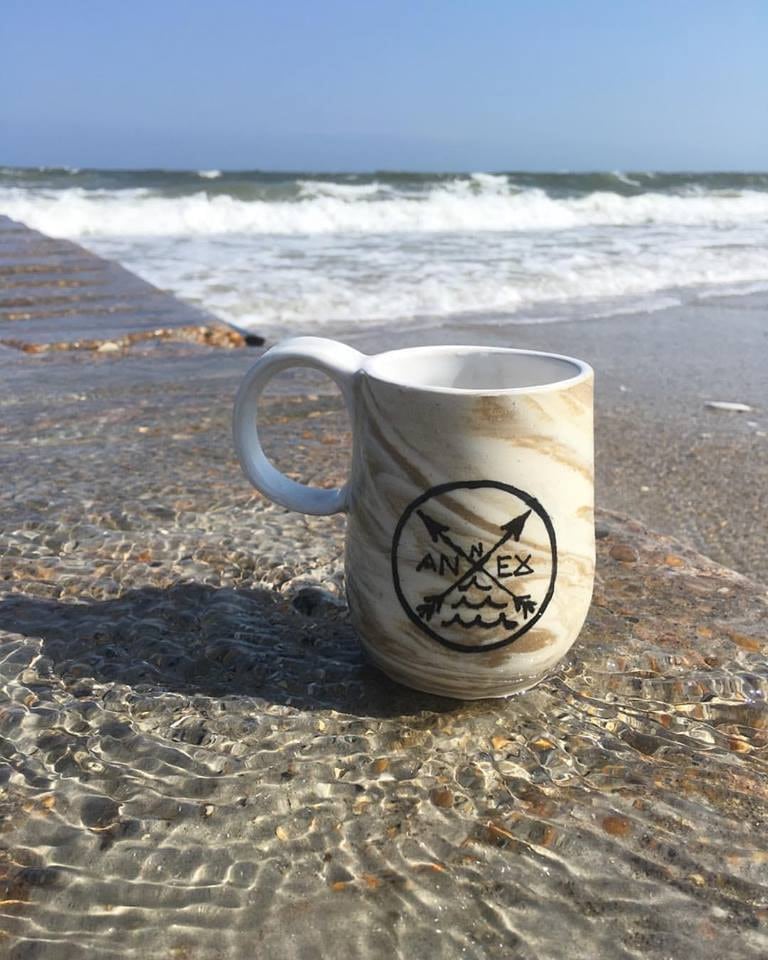 Which didn't take long to find me. 
Soon, I got another unbelievable message from a local photographer, Kam Goodrich,  inquiring if I'd be willing to loan out some products to be featured in a styled elopement shoot. WHAT?! Of course I would. 
The shoot focused on featuring local goods, highlighting how special your big day could be with unique touches from small businesses located in the area. 
I was honored to have my work selected to be a part of this shoot. I'm so glad I decided to take a chance on it, because the shots turned out AMAZING.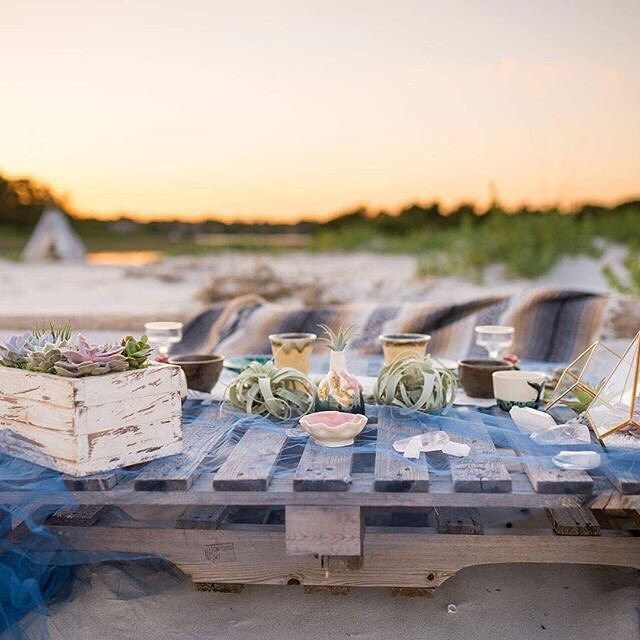 It's funny how opportunities arise online.
Remember the emergence of social media and how everyone warned not to talk to strangers, or fall into false opportunities, and to put out as little info as possible? Well I'm glad we've gotten past that and can use social media to our advantage, to meet people, to have amazing opportunities presented to us, to get some feedback on how we're doing. 
A month or two passed from my mind blowing opportunities that presented themselves to me this spring, and before I knew it, I had my first wholesale order inquiry. 
I've seen my colleagues take on wholesale orders, speak of having things professionally packaged, and take pride in having their pieces featured in another business.  Never did I think my opportunity to step into the world of wholesale would come so quickly. 
Now, some things went a little awry with the kiln during this order, which to put it lightly, FREAKED ME OUT. Some of my mugs for the order ended up being 'sacrifices' but thankfully, the way of the universe was no stranger to the business that placed the order. I'm so thankful for the understanding and flexibility of the woman who placed the order with me. 
In the end, I packaged everything up, and shipped it on out to Sink R Swim, a little men's shop in the great garden state of New Jersey. Man, how cool is it to know the stuff you make has found a new home miles and miles away.
 I've shipped online orders all over the U.S. from Oregon, Washington state, California, Arizona, Texas, Virginia, Georgia, South Carolina, North Carolina, Maryland, South Dakota, and Ohio. But something feels a little more awesome about shipping a wholesale order to a shop in another state. 
Here we are, a year from where we started
and to wrap up the year, I had an awesome collaborative photo-shoot with a friend and fellow local maker, Spikey Peach Designs 
One of my dearest, and most talented friends, Holly Cromer of Holly Cromer Photo  came down to our neck of the woods, and shot some amazing product photos for Sada and I. 
They turned out great! I'm always amazed at how gorgeous Hollys photos come out, and how quick she is in getting the final product back to her customers.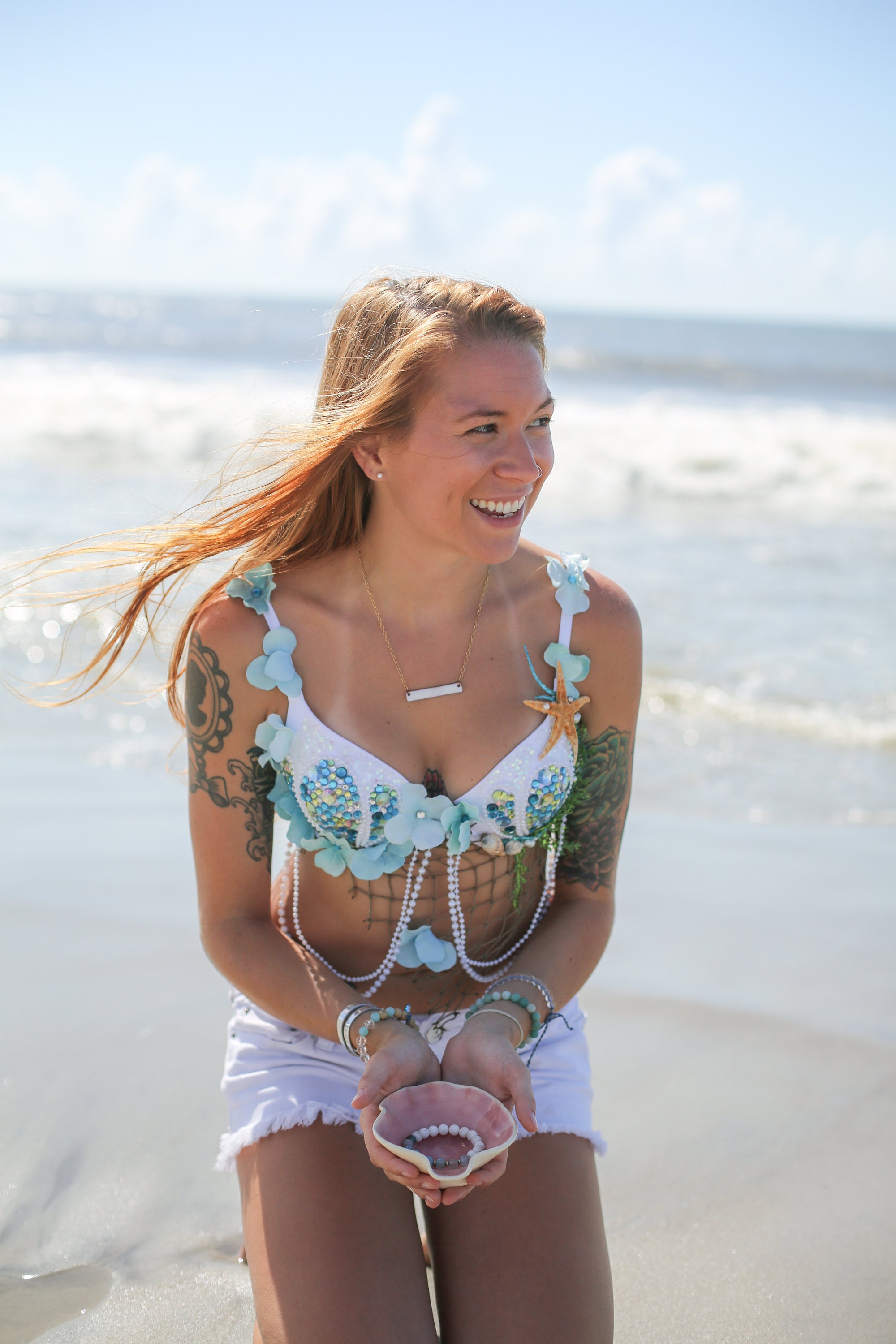 As for the future, I have a few ideas lined up for what to do next, 
but I can't imagine what surprises await for Celestial Surf Studio in its second year. I guess we'll just have to wait to find out. Stay tuned to see what adventures unfold for us next.